Who we are
Fun Segway Tours Golden Gate Park
Are you ready for an adventure? Follow us as we take you on the best segway tours San Francisco offers, in beautiful Golden Gate Park! We are the premier tour company offering unique, fun-filled tours with amazing views and clever local guides.
At 3 miles long, this park is huge - it's even bigger than New York's Central Park! You could walk it, but why not ride a fun Segway instead!? Discover San Francisco on one of our scheduled tours, or plan a private tour. We'll teach you how to use the segway and make sure you feel comfortable before we head off on an excursion. You'll make your way around the entire park with a local guide leading the way.
Our guides are experienced, knowledgeable, and passionate about this great city we live in. They lead the way on our guided tours, pointing out the sights, telling stories, and sharing the park's history. They'll even point out a few hidden gems that you might otherwise miss! We have been the #1 tour on TripAdvisor for nine years running.
Explore our Guided Tours
Duration
2 hours 30 minutes
Glide through the 1,000+ acre Golden Gate Park
Have a blast riding through seven beautiful miles of Golden Gate Park's landscaped trails and roads.
Visit hidden sights that include the Lilly Pond, Shakespeare Garden and Fern Grotto.
The fully guided tour explores the east end, including the National Aids Memorial, Music Concourse, Pioneer Grove, and Stow Lake.
Tour guides share tidbits and trivia about the Park's stewards over the years, the impact of WWII on the Japanese Tea Garden, and the story of the park's historical transformation from bleak sand dunes to today's lush vista.
This fully narrated tour is 2.5 hours long, including fun training.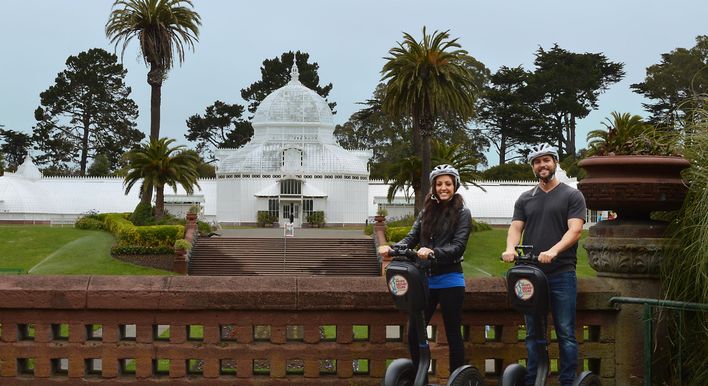 If you have a group from 2 to 16 guests, we can arrange a memorable Private Segway Tour in San Francisco's Golden Gate Park.
The extended Golden Gate Park tour route is only available for our private tour guests.
This custom route includes the best of our Golden Gate Park routes and can include the eastern or western (Ocean) parts of the park.
Private Tour rates include your own personal guide, extra training staff (as needed), longer routes and staff/guide gratuities.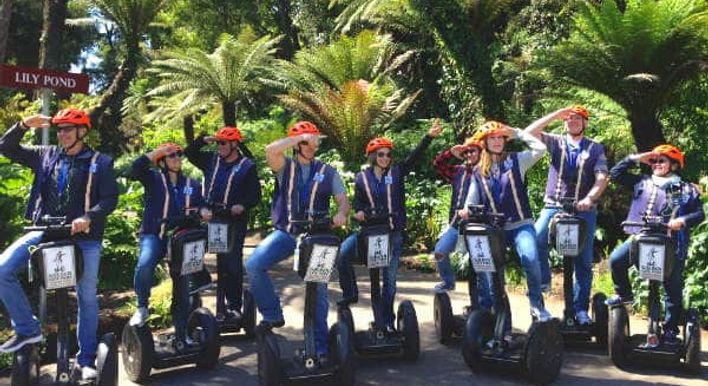 Private Tours & Team Building for Groups from 10 to 60 Guests
This extended Golden Gate Park route is only available for our private tour guests.
The extended route includes the best of our Golden Gate Park routes and can include the Eastern - Museums and Formal Gardens or Western -Pacific Ocean and Ocean Beach parts of the park.
Best Segway Tours In San Francisco's Golden Gate Park
We are proud to be the exclusive segway tour company in the park and safety is our top priority. Our guides are well-trained and will teach you how to safely ride the segway. The tour will not leave until every guest is comfortable.
Our guides will lead you through the park, sharing interesting facts. Each guest will receive a radio receiver and an earbud to ensure that you won't miss any of the guide's entertaining commentaries.
Professional Training
Trust our experienced instructors. All tours include 20 -30 minutes of Segway rider training prior to exploring the park.
Family Friendly
Ages 12 and up over 100bs are welcome.
Super Fast Booking
Real time availability and instant confirmation for your upcoming trip
Best thing we did all weekend! Super easy to arrange and very well done! Everyone had the best time, we learned so much about the area!! Will do again
Johannes was our guide and he is so knowledgeable about the park! He always made sure we were safe and comfortable. Going at this time was amazing to see multitudes of flowers that were brilliant in color, especially rhododendrons. Segways are fun and a great way to make the most of 3 hours in Golden Gate Park.
Easy scheduling and check-in. Orientation focused on safety and made us feel ready to ride! Cass was fun tour guide. Unique way to see the city. Would recommend!
Great way to see all of SF city sites. Fun, easy, low stress, small group. Jack was our tour guide and was awesome! He took great photos and videos for us!! We saw everything and more!!
My second time doing this GG Park Segway tour with these guys in a year because it's super fun and you learn SO many interesting things about the park! It's absolutely gorgeous. Segways are comfortable and intuitive to maneuver. The guides with this company have been excellent. Most recent (May 21, 2023) was Devin and he was not only super friendly and knowledgeable, but funny and down-to-earth, as well. He was attentive and made sure we all felt safe and comfortable. I highly recommend this as one of the best things to do in SF!
Chris Catton
22nd May 2023
Very good tour and excellent tour guide. Made it really easy for us. It's extremely safe as well to do it.
Amazing time! I was worried i wouldn't get it, but the training was very thorough. We saw so much more of Golden Gate Park than my legs could have done walking. Loved the "off roading" in the Redwoods and Muriella made it so fun! I am definitely doing it again, I'm obsessed!
My friends and I went on this tour for a girls trip. It was the most perfect way to see San Francisco quickly when we only had one day. The tour guide was fun, upbeat, and quirky. Loved this experience and would recommend it to anyone who wants to create a long-lasting memory from this city.
A very entertaining and informative sightseeing tour around North Beach & Fisherman's wharf. Our guide, Cass, was very knowledgeable and light hearted. Had never ridden a Segway before and the training provided was easy, was a pro in no time.
Our guide Susan was fun and very nice we recommande him the tour is great and drive a segway with great teacher is not that difficult...
Previous
Next
Location
Welcome To Golden Gate Park
At 1,017 acres, this park is an impressive mix of gardens, lakes, meadows, playgrounds, sports courts, fields, memorial groves, wildlife, and landmarks. But it hasn't always been that way. This site was originally a vast area of barren sand dunes called Outside Lands. In January 1871, construction began, and in 1894 the world's fair was held here. It was years later, in January 1933, that construction began on the Golden Gate Bridge.
After the San Francisco earthquake and fire of 1906, the park became a temporary sanctuary for displaced residents whose homes had been destroyed. Wood barracks were built to provide temporary shelter.
Frequently asked questions
Most frequent questions and answers
Recent news
You, and your special someone, will have fun and create great memories in the Bay Area with our list of date ideas in San Francisco. Whether you are looking for an outdoor date, a romantic evening, or an amusing time…
Visitors to San Francisco are familiar with the city's top iconic sites. Landmarks like the Golden Gate Bridge, Fisherman's Wharf, Alcatraz Island, and cable cars are certainly at the top of most San Francisco bucket lists. If you are planning…
Whether you are a first-time traveler, a frequent visitor, or a California native, there is much to uncover and explore in the Bay Area. With more than 250 days of sunshine per year, intrepid explorers can plan outdoor activities in…
Book your next Adventure
.
Don't get lost, explore the park with an entertaining tour guide!