Discovering Cultural and Scientific Gems:
A tour we think you'll love
The De Young Museum and California Academy of Sciences in Golden Gate Park
Golden Gate Park, an oasis of natural beauty nestled within the heart of San Francisco, is a treasure trove of diverse attractions that captivate the hearts of locals and tourists alike.
Among the numerous remarkable destinations within the park, two institutions stand out as must-visit places: the De Young Museum and the California Academy of Sciences. Both venues offer enriching experiences, blending art, culture, and science to create a harmonious tapestry of knowledge and wonder.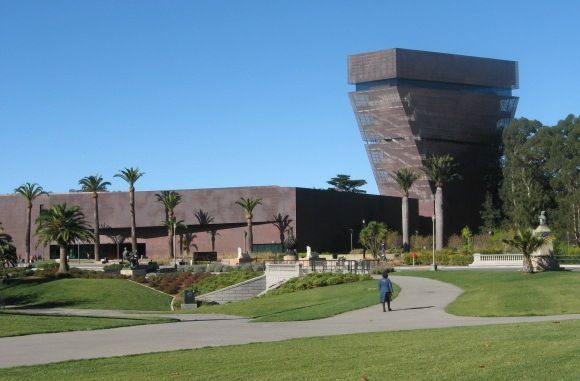 The De Young Museum: An Art Oasis
Opened in 1895, the de Young is home to American art from the 17th century through today, textile arts and costumes, African art, Oceanic art, arts of the Americas, and international contemporary art.
As you step into the De Young Museum, you are greeted by an architectural marvel designed to complement the park's lush greenery and picturesque scenery. The building's copper facade gracefully ages with time, mirroring the dynamic relationship between art and nature. This synergy is further embodied in the museum's collection, boasting an extensive array of artworks that span continents and epochs.
Good to Know: Admission is free on the first Tuesday of every month. Also, a $2 discount if you show your Muni or BART ticket.
The De Young Museum houses an impressive collection of American art, showcasing the nation's diverse cultural heritage through paintings, sculptures, and decorative art. From the bold strokes of renowned American painters to the intricate craftsmanship of indigenous artifacts, every piece adds a layer of understanding to the rich tapestry of American history and creativity.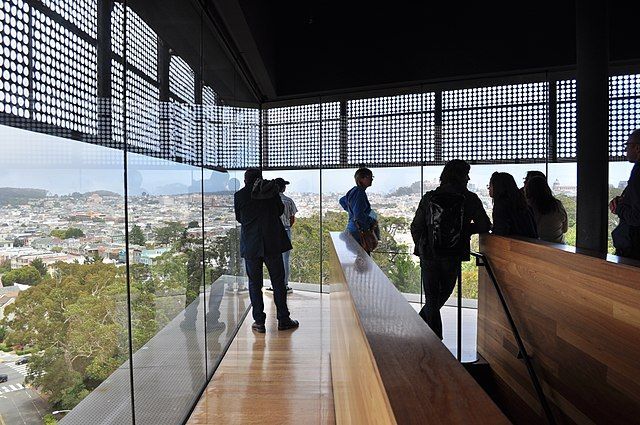 One of the museum's defining features is the Hamon Observation Tower, offering panoramic views of Golden Gate Park and the surrounding cityscape. The tower itself is a work of art, featuring a spiraling copper structure that evokes the essence of a natural vortex. From its vantage point, visitors can gain a new perspective, witnessing the symbiosis of art and nature that permeates the park's soul.
Beyond its permanent collections, the De Young Museum hosts various rotating exhibitions, ranging from contemporary art installations to ancient artifacts from far-off civilizations. Each exhibition is thoughtfully curated, providing a thought-provoking experience that fosters an appreciation for the vastness and diversity of human creativity.
Plan your vIsit:
Website: https://www.famsf.org/visit/de-young
Hours: Tuesday – Sunday
9:30 am – 5:15 pm
Hamon Observation Tower closes at 4:30 pm
The California Academy of Sciences: A Journey Through Natural Wonders
Visit the only place on Earth with an aquarium, planetarium, rainforest, and natural history museum—all under one living roof.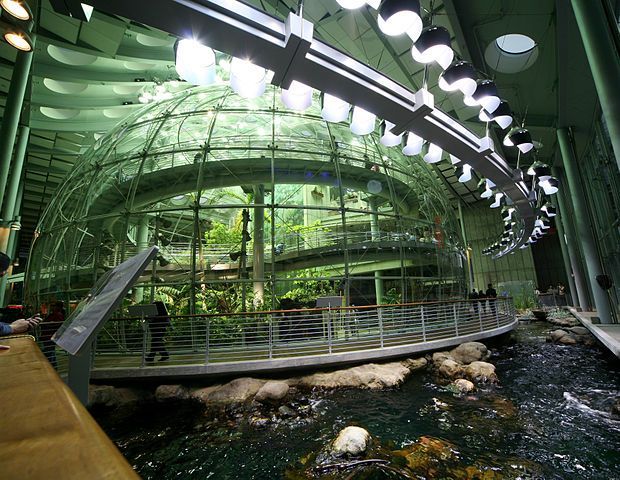 Just a short stroll away from the De Young Museum lies the California Academy of Sciences, a world-class institution dedicated to exploring the wonders of the natural world. This remarkable edifice, crowned with a living roof that blends seamlessly with the park's landscape, is a testament to sustainable architecture and environmental stewardship.
Good to know:
If you plan ahead you can save $$: Buy your tickets at least 3 days in advance to save $3-5 or more per ticket and guarantee availability on busy days.
As you step inside, the curved glass roof dips into view As you explore you are greeted by an immersive and captivating African Hall, where lifelike dioramas bring the continent's diverse ecosystems and wildlife to life. It's as if you have embarked on a safari, observing majestic animals in their natural habitats. From the Serengeti's vast plains to the lush rainforests of the Congo, visitors gain insight into the delicate balance of ecosystems and the importance of preserving biodiversity.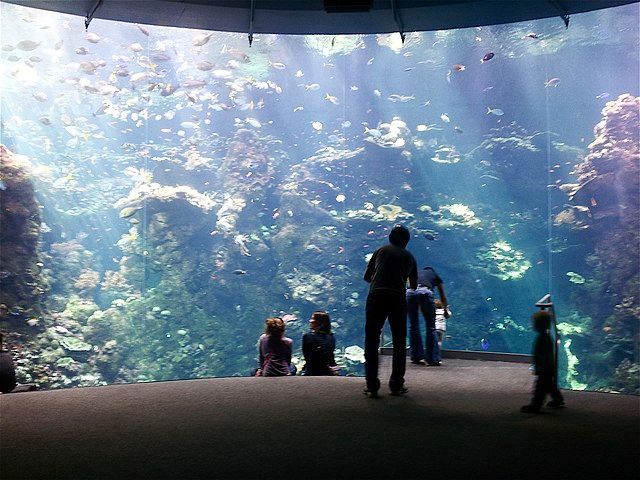 One of the Academy's most beloved attractions is the Steinhart Aquarium, a mesmerizing underwater wonderland that showcases marine life from around the globe. The living coral reefs, teeming with vibrant fish and other aquatic creatures, are a poignant reminder of the beauty and fragility of our oceans. The Academy's commitment to conservation is evident through its research and educational efforts aimed at preserving these delicate underwater ecosystems.
The Morrison Planetarium offers a celestial journey through space and time. In the darkness of the dome, visitors are transported to distant galaxies, witnessing cosmic phenomena and celestial wonders. The immersive experience instills a sense of awe and humility, reminding us of our place in the vast expanse of the universe.
Website: https://www.calacademy.org/
Public hours
Monday-Saturday: 9:30 am-5 pm
Sunday: 11 am-5 pm
Thursday NightLife (21+ with ID): 6-10 pm
Members-only hours
Tuesday: 8:30-9:30 am
Sunday: 10-11 am
Osher Rainforest hours
Monday-Saturday: 10 am-4:45 pm
Sunday: 11 am-4:45 pm
Thursday NightLife (21+ with ID): 6-7:45 pm
Morrison Planetarium showtimes
Reservations are required; view Daily Calendar for the schedule
Please note that planetarium shows may not be appropriate for children under 7, and we regret that no child under age 4.
Plan a perfect day and visit both museums
The De Young Museum and the California Academy of Sciences stand as beacons of knowledge and creativity in Golden Gate Park. Each institution, in its unique way, captures the essence of the park's spirit—where art, culture, and science converge, fostering a deeper understanding of the world we inhabit.
While the De Young Museum celebrates the human spirit's boundless creativity, the California Academy of Sciences reminds us of our responsibility to safeguard the planet's delicate ecosystems. Together, they form an enriching journey that leaves visitors inspired, enlightened, and connected to the wonders of our shared human and natural heritage.
Main Features of each Museum:
De Young Museum: A remarkable architectural marvel that blends art and nature, housing an extensive collection of American art and rotating exhibitions.
California Academy of Sciences: A world-class institution with a sustainable living roof, offering captivating exhibits on natural history, including the African Hall, Steinhart Aquarium, and Morrison Planetarium.
While in Golden Gate Park enjoy a fun Segway Tour
Have an adventure in Golden Gate Park with a small group of like-minded explorers. You'll see the famous landmarks, plus a few hidden corners of the park.
Your knowledgeable local guide will share the history, stories, and a few secrets about Golden Gate Park. No experience is necessary to ride the Segway. We'll take time to make sure each person feels comfortable before we start the tour.
Whether this is your first time in San Francisco or you have lived here for many years, you are sure to learn something and have a good time doing it!
Next door-to-booth museums: Golden Gate Park Segway Tours is located very near the DeYoung and the California Academy of Sciences MAP
Book now, or call us at 415-474-3130, to book your next great adventure!
Learn More about Golden Gate Park: