Scavenger Hunts In Golden Gate Park
This Park route only available for our private tour guests. The extended route includes the best of our Golden Gate Park routes and can include the eastern or western (Ocean) parts of the park
DOES THE PHRASE "TEAM BUILDING" INSPIRE EYE ROLLING AND GENERAL SKEPTICISM FROM YOUR WORKPLACE COLLEAGUES?
Have you been looking for a fresh new approach to team-building that will actually be fun? Look no further. Segway Scavenger Hunts are sure to win over even the most seasoned cynic! Aside from the fact that virtually everything is more fun on Segways or Scooters, here are three reasons why your company's employees will be talking about this Scavenger Hunt for years to come.
San Francisco is an irresistibly beautiful, history-rich city and there's no better way to explore it than on a Segways or Scooters.
Segways inspire joy. We've seen more than one rider giggle uncontrollably just by gliding around town. Talk about stress reduction!
Collaboration happens naturally when people are happy. The Segway Scavenger Hunts are a competition among teams but within each team, folks happily put their heads together to solve the clues that lead them to the next destination—where more clues await.
Segways are easy to ride and we ensure that everybody rolls safely by providing training before the adventure begins.
Frequently asked questions
Glide through the 1,000+ acre Golden Gate Park
Have a blast riding through seven beautiful miles of Golden Gate Park's landscaped trails and roads.
Visit hidden sights that include the Lilly Pond, Shakespeare Garden and Fern Grotto.
The fully guided tour explores the east end, including the National Aids Memorial, Music Concourse, Pioneer Grove, and Stow Lake.
Tour guides share tidbits and trivia about the Park's stewards over the years, the impact of WWII on the Japanese Tea Garden, and the story of the park's historical transformation from bleak sand dunes to today's lush vista.
This fully narrated tour is 2.5 hours long, including fun training.
44 Reviews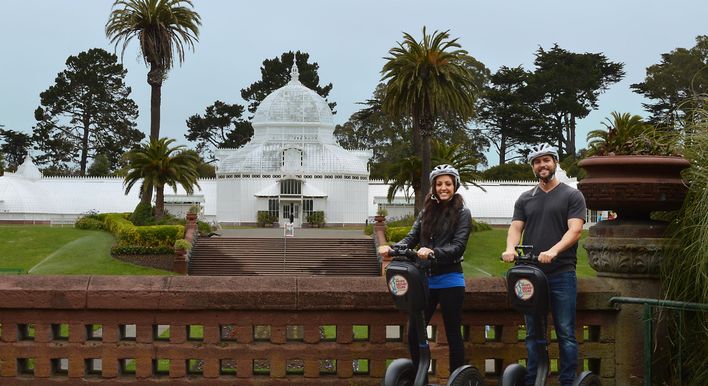 If you have a group from 2 to 16 guests, we can arrange a memorable Private Segway Tour in San Francisco's Golden Gate Park.
The extended Golden Gate Park tour route is only available for our private tour guests.
This custom route includes the best of our Golden Gate Park routes and can include the eastern or western (Ocean) parts of the park.
Private Tour rates include your own personal guide, extra training staff (as needed), longer routes and staff/guide gratuities.
18 Reviews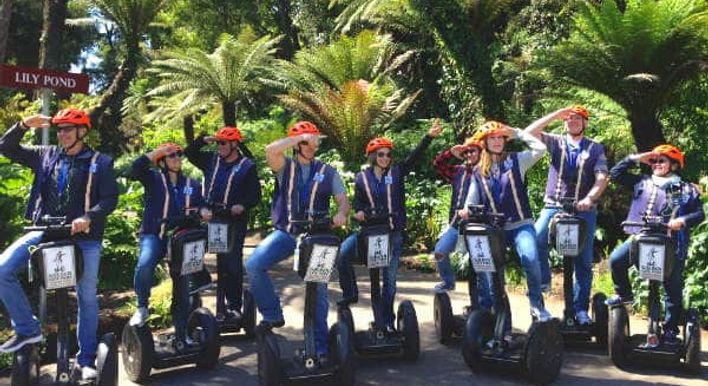 Private Tours & Team Building for Groups from 10 to 60 Guests
This extended Golden Gate Park route is only available for our private tour guests.
The extended route includes the best of our Golden Gate Park routes and can include the Eastern - Museums and Formal Gardens or Western -Pacific Ocean and Ocean Beach parts of the park.
19 Reviews